A good paint job contributes greatly to the appearance of a business or residential property. A storefront that has a neat, even coat of paint in a tasteful color is far more likely to attract clientele than one that is dirty, peeling, or unpleasant in color. The outside of the building is the first thing people see. Make sure they are getting a positive impression when they first enter your property!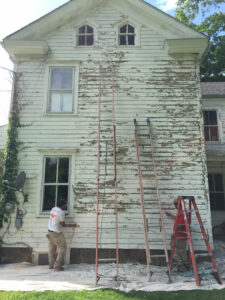 Pro-Coat Painters, Inc. offers exterior painting services for houses and apartments, commercial buildings, churches, synagogues, schools, and more. We take great pride in making your business and home look their best. To minimize the disturbance to your customers and families, we work at times convenient to you. For commercial properties, this includes after closing hours. Our team works quickly to ensure that your business does not miss a beat. The exterior painting and staining services offered include:
Paint removal and stripping
Aluminum siding repainting
Staining (e.g. decks, door frames)
The painting process begins with surface preparation. In order to achieve the best and longest-lasting results, the Pro-Coat team begins by:
Scraping off loose coatings
Caulking where necessary
Applying primer
When the work is finished, there is no mess left behind for the home or business owner, just a beautifully painted and refreshed exterior that your family or customers will appreciate. The industrious painting team is courteous, efficient, and neat, and will work after closing hours for commercial properties such as restaurants and retail stores.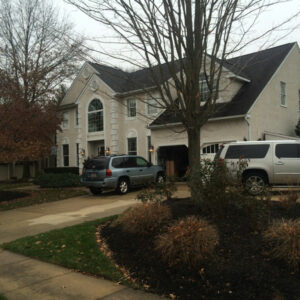 In order to stain wooden surfaces such as decks, doors, and trim, Pro-Coat Painters performs a surface preparation process similar to that of paint jobs. The wood is carefully sanded before the stain is applied. One of the company's greatest staining projects was Kids Castle in Doylestown's Central Park. The enormous structure had to be entirely pressure washed, sanded, and re-stained, work valued at $6,000, which Pro-Coat performed entirely free of charge!
Another challenging project that the Pro-Coat team performed involved the St. Thomas Church of Villanova University. The old wooden doors of the building had to be stripped, sanded, and stained. This task was especially painstaking, considering the delicate wooden sculptures carved in high relief! With precision and attention to detail, the trained professionals carefully sanded and applied a fresh coat of stain to the historic doors. With this level of craftsmanship, you can certainly trust Pro-Coat Painters to complete any exterior painting job for your home or business.